Fyodor Dostoyevsky is named among the greatest writers that have been produced by Russia. He was born on the 11th of November 1821 in Moscow. He wrote various short stories and novels and most of them dealt with different facets of Human Psychology. He was primarily a military engineer however in the year 1844 he resigned from his post and joined the utopian socialists. Due to his activities he was arrested by the police and was transported to Siberia. It was during his days in Siberia when he wrote some wonderful pieces of literature.  In this article we will briefly see some of the greatest works of Fyodor Dostoyevsky.
Poor Folk
"Poor Folk" was the first novel which was written by Dostoyevsky. The novel was written by the author in 9 months. The novel was published between the years 1844-1845. The novel was written when the author was suffering from some serious financial crises due to his too much gambling and extravagant living. The sole purpose behind Poor Folk was to generate funds.
Notes from Underground
The novel was written back in the year 1864. The first part of this novel is written in the form of a Monologue. In the first part, the writer has criticized the western philosophy.  The second part of the novel has been named as "Apropos of the Wet Snow". The second part discuses some events related to the underground man.
Crime and Punishment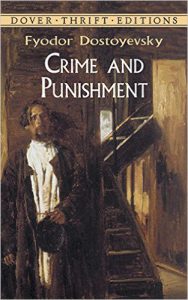 It is one of the most popular novels written by Fyodor Dostoyevsky. The novel was initially published in Russian Messenger which is a literary journal. It took 12 months for the Novel to get published, however later it got published in a single Volume. The Novel is considered second as far as Dostoyevsky's full length novels are concerned. The author wrote the novel after returning back to his homeland from Siberia.
The Idiot
The novel is considered as a classic and is still read today by many. The Novel was more of a philosophical discourse and was published between the years 1868-1869. The Novel involves the character of Lyov Nikolaevich Myshkin who is a very nice and simple man. However he faces many tribulations and conflicts in his life. According to the great philosopher A.C. Grayling, the novel is the most remarkable piece of literature that has ever been written by Fyodor Dostoyevsky.
Short stories
Fyodor Dostoyevsky has written some short stories as well, among them the popular ones are
The Dream of a Ridiculous Man
Prokharchin
The Peasant Marey
Novel in Nine Letters
A Gentle Creature
Another Man's Wife
Bobok
A Jealous Husband
Polzunkov
A Little Hero
A Nasty Story
The Crocodile
On 9th of February 1881, Fyodor Dostoyevsky passed away. His works are still remembered today due to their unique writing style and extraordinary stories. Fyodor Dostoyevsky is a name that cannot be ignored whenever Russian literature is discussed.